What's On
Keep up to date with the events that are happening throughout the year in Ripon and the surrounding area. We welcome you to add your own event to the Ripon Internet diary.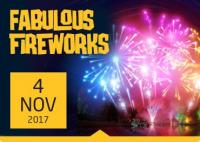 Fabulous Fireworks
Join us for a fabulous firework spectacular, choreographed to music and set over our picturesque Swan Lake. The theme park rides are all open as usual from 10am and once darkness falls our 15 minute firework show will provide heaps of extra excitement at no extra cost.
Bookable online in advance £20pp - 1.0m and over in height £5 - Under 1.0m & Seniors £0 - under 2's
https://www.lightwatervalley.co.uk/events/fabulous-fireworks-2017 t: 010765635321 e: leisure@lightwwatervalley.co.uk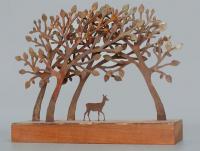 Crafted by Hand
Crafted By Hand 4 & 5 November 2017, 10am – 4pm Masham Town Hall, Little Market Place, Masham HG4 4DY
A stunning contemporary design led art and craft event featuring some of the region's best makers of jewellery, ceramics, glass, sculpture, printmaking, and much more! As well as being able to buy gorgeous crafts directly from the maker, you'll be able to watch or try your hand at blacksmithing, ceramics, lampwork glass, furniture making and printmaking – and perhaps discover a new hobby!
Entry is £2 for adults, under 16's 50p. For more details visit www.by-handevents.com Email: craftedbyhandevents@gmail.com Tel: 01765 689554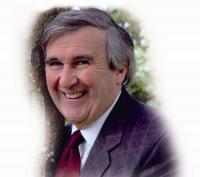 Gervase Phinn book signing
Best selling author Gervase Phinn will be signing copies of his new book 'Happy Days' at The Little Ripon Bookshop on Thursday 9th November from 11.30am. Telephone 01756 701381 www.dalesman.co.uk/events#nov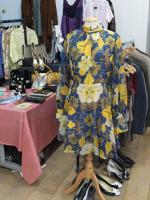 Harrogate Vintage Fair
20 stalls of vintage treasures, live vintage music, vintage hair salon and pop up tearooms - all in the heart of Harrogate!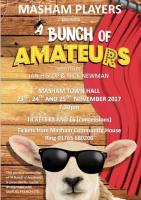 A Bunch of Amateurs
A Bunch of Amateurs by Nick Newman and Ian Hislop Jefferson Steel is an ageing Hollywood action hero. He's vain, insecure and out of work. In a final attempt to find Jefferson work his agent stumbles upon the perfect role: playing King Lear at Stratford-upon-Avon. Jefferson believes he has landed the role of a lifetime; arriving in the UK to discover that instead of a leading role in Stratford-upon-Avon, he is booked to tread the boards with an amateur dramatic society in a sleepy English village. A clash of cultures with comic complications ensues in this funny and ultimately moving comedy
Please note some language may offend l
Tickets:£8 and £6 Concessions: Masham Community Office ring 01765 680200
Christmas Gift and Food Fair
Christmas Gift and Food Fair with over 100 stalls of seasonal gifts and food at Ripon Cathedral and also at The Old Deanery Hotel. Christmas cakes, children's entertainment, Santas Grotto, Face Painting. Cafe open all day serving turkey sandwiches and mulled wine. A great shopping experience in the stunning setting of Ripon Cathedral.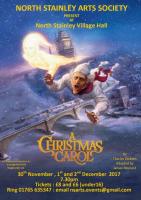 A Christmas Carol
A Christmas Carol A veritable feast of Carols, staging and effects in the second greatest Christmas story ever told. by Charles Dickens adapted by James Reynard A mean-spirited, miserly old man named Ebenezer Scrooge sits in his counting-house on a cold Christmas Eve. His clerk, Bob Cratchit, shivers in the anteroom because Scrooge refuses to spend money on heating coals for a fire. Scrooge's nephew, Fred, pays his uncle a visit and invites him to his annual Christmas party. Two ladies drop by and ask Scrooge for a contribution to their charity. Scrooge reacts to the holiday visitors with bitterness and venom, spitting out an angry "Bah! Humbug!" in response to his nephew's "Merry Christmas!"
Tickets £8 and £6 (under 16) Ring 01765 635347 email nsarts.events@gmail.com
Add your event