What's On
Keep up to date with the events that are happening throughout the year in Ripon and the surrounding area. We welcome you to add your own event to the Ripon Internet diary.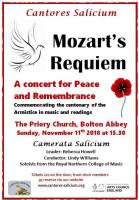 Mozart Requiem: a concert for Peace and Remembrance
A commemoration of the centenary of the Armistice in music and poetry. Charmber choir Cantores Salicium with Camerata Salicium will perform Mozart's Requiem, together with shorter works and readings of poetry. Venue, Priory church Bolton Abbey BD23 6AL Time 3.30 p.m. Village car park is free to concert-goers or drive down to the church (barriers may be moved aside). Don't miss this special event.
Add your event