What's On
Keep up to date with the events that are happening throughout the year in Ripon and the surrounding area. We welcome you to add your own event to the Ripon Internet diary.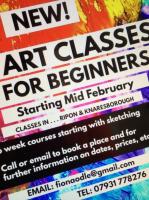 Art Classes for beginners
A 6 week course on Monday afternoons at Ripon Cathedral Hall. Please send your email address to the number on the advert and I'll send you an information pack.
Add your event