What's On
Keep up to date with the events that are happening throughout the year in Ripon and the surrounding area. We welcome you to add your own event to the Ripon Internet diary.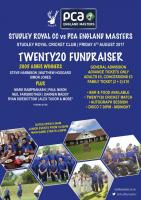 Studley Royal CC vs PCA England Masters
Beer tents, food, and a full team of ex England internationals against Studley Royal Cricket Club. Should be a great day out for all the family!#stags #pca #england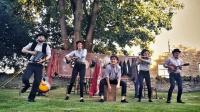 Romeo and Juliet
The Three Inch Fools Presents 'Romeo and Juliet'
Friday 11 August
Ripon Cathedral
Five actors, with all manner of musical instruments, present an inventive take on Shakespeare's infamous story of whirlwind romance and bitter tragedy.
The Three Inch Fools are a five-strong troupe of actors with all manner of musical instruments, travelling with set, props, costumes and camping gear, performing a highly imaginative and vibrantly musical take on Shakespeare's plays.
The Fools perform Shakespeare in almost any kind of setting – to date, they have performed at castles, stately homes, gardens, churches, market places, village greens, an old fire station, a medieval crypt, a crowded pub and a garlic farm – all the world's a stage!
Tickets shall be available to purchase online soon.
If you have any questions or would like to be the first to know when tickets are on sale, please contact Molly Barrs Fundraising Events Officer on mollybarrs@riponcathedral.org.uk
Ripon Summer Yoga
Ripon Summer Yoga in it`s 19th year will be offering 6 Sessions of Yoga at Ripon Leisure Centre from 19th July to of 23rd August. inclusive from 7.45pm - 9.15pm . There will be a different teacher each night. None of the sessions will be to strenuous and will be suitable to those over 16 years of age. No pre -booking is required. Costs £6.00 per session. If possible bring your own mat. This is a non-profit making organisation which donates the proceeds after costs to charity. For Further details contact
Jen Thompson 01765 605287 or Celia Grieve 01765 603286
Add your event