Return to Community Links Page
Ripon Library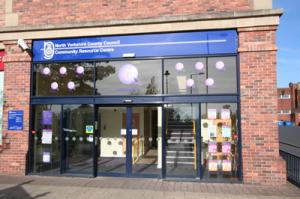 Tel: 0845 034 9524
The new Ripon Library was opened in October 2001 by James Gordon of Radio York.
Membership is free. There are no forms to fill in and you can use any library in North Yorkshire.
Childrens Area
The specially designed children's area has books for babies and plenty of comfortable spaces to relax with a story. Spend some time browsing thorugh the latest stories for older children and look at the selection of children's DVDs, CDs and stories on cassette or CD.
Books & Reading
There is a much bigger selection of books for our adult readers and space to relax while you choose. A large collection of local and family history materials including books, maps and photographs will make learning about the local area easier than ever before.
Films & Music
The library features a range of DVDs and compact discs to hire, from old favourites to contemporary releases.
Free Internet Access
Free internet access is available through a suite of computers which also offer word processing and other office programs.
Special Needs
For customers with special needs a passenger lift gives easy access to the library. The collections of large print and audio books have been expanded and books on CD have been added as a new service.
Contact
The Arcade, Ripon, HG4 1AG
Tel: 0845 034 9524
24/7 Telephone Number 0845 034 9583
E-mail: ripon.library@northyorks.gov.uk
Opening Hours
Monday - 10am - 6pm
Tuesday - 10am - 5pm
Wednesday - 10am - 5pm
Thursday - 10am - 5pm
Friday - 10am - 5pm
Saturday - 10am - 2pm
Sunday - closed