What's On
Keep up to date with the events that are happening throughout the year in Ripon and the surrounding area. We welcome you to add your own event to the Ripon Internet diary.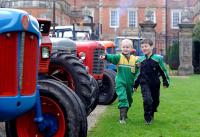 UK's biggest Tractor Fest returns to Newby Hall
After a two-year break, the UK's largest Tractor Festival is back - and it's bigger than ever having been extended to three days in celebration of the Queen's Platinum Jubilee.
Tractor Fest takes place at award-winning country house and gardens Newby Hall, North Yorkshire, over the Bank Holiday Jubilee weekend (Friday 3 June to Sunday 5 June) when the UK will celebrate the Queen's 70th anniversary as monarch.
The three-day event will showcase thousands of vintage tractors and modern marques, stationary engines, commercial vehicles, cars, lorries and motorcycles from around the UK and Europe.
In celebration of the Platinum Jubilee, this year's festival will feature a display of 70-year-old Jubilee and Coronation vintage tractors, along with a display of 100 pre-1922 vintage tractors and 100 century--old stationary engines.
The show will also feature displays from specialist marque clubs and interest groups including the Marshall Club, Ford and Fordson and Ferguson, as well as working vintage machinery. The vintage vehicle section will celebrate 100 years of the Auston 7, the 'big car in miniature' which dominated the UK motor market when it was first produced in 1922.
In addition, a host of entertainment, crafts, food and drink make Tractor Fest a great family day out. Admission includes access to Newby's award-winning gardens, adventure playground, dolls house and teddy bear exhibitions.
Other fun activities for families over the weekend include mini tractor driving, face painting, colouring, interactive exhibits and working machinery. There are also trade stands, crafts and a choice of street food.
WHEN? Friday 3 June – Sunday 5 June 2022, 10am-5pm WHERE? Newby Hall & Gardens, Ripon, North Yorkshire COST £16 for 4-16 years) - under 4's free. A family ticket (2 adults & 2 children) £50.00 TICKETS Available exclusively online https://www.newbyhall.com/event/tractorfest-3rd-4th-5th-june-2022/ For more information visit: http://tractorfest.uk/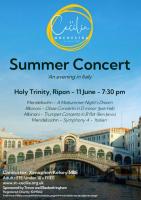 Summer Concert - An Evening in Italy
Starting with excerpts from Mendelssohn's "Midsummer Night's Dream", followed by a charming Oboe Concerto by Albinoni with Josh Hall as soloist. After the interval, Ben Jarvis will be the soloist in Albinoni's Trumpet Concerto and we finish with Mendelssohn's 4th Symphony, the exciting "Italian Symphony". Tickets available online (www.st-cecilia.org.uk), by phone (01423 531062), from Little Ripon Bookshop (cash only) and Henry Roberts Bookshop, or at the door.
Ripon Theatre Festival
Four days of drama, street theatre, circus, dance, puppetry, storytelling and more. Events and activities for all ages, both indoors and open-air. Performance and fun to brighten the unique city of Ripon.
Add your event