What's On
Keep up to date with the events that are happening throughout the year in Ripon and the surrounding area. We welcome you to add your own event to the Ripon Internet diary.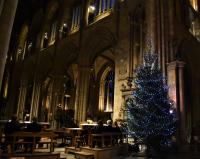 Light Up A Life
Herriot Hospice Homecare and Saint Michael's Hospice invite you to Light up a Life, your annual opportunity to dedicate a light to remember someone special, while supporting your local hospice: http://bit.ly/3tOOWdq.
At the heart of Light up a Life are those who have died and we continue to love. Share your loved one's memory on our online Christmas tree, and remember those who have touched our lives. Following your dedication, you will receive a beautiful star on which to write your tribute. You can bring this star along to our service to place on our hospice tree, or display it on your own tree at home.
Join us at Ripon Cathedral on December 4 at 3.30pm for our very special remembrance service with Herriot Hospice Homecare, part of our family of services. Experience music, readings and time for reflection and see our community's lights illuminated as we come together to remember those we love. We welcome families to join us, and will have special opportunities for young people to be a part of Light up a Life.
Add your event