See all Delicatessens businesses
Deli on Duck Hill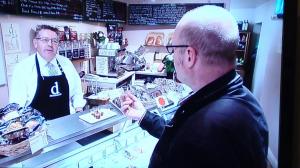 Small Shops Arcade, Duck Hill, Ripon, HG4 1BL
01765 600972
01765 609965
deli on duck hill ~ ripons' gourmet food store.

Now a hit on National TV!

"ADE IN BRITAIN" - Features Deli on Duck Hill

Ade Edmundson visited Ripon's famous Deli on Duck Hill, in his latest ITV1 series. He is currently to be seen each weekday afternoon searching the country for unique, quirky foods, and customs.

Where better to visit than Ripon? Ade's producers contact Don & Sadie at the Deli, trying to obtain a rare Ginger Cordial, made to a 300 year old traditional recipe. During conversations regarding the filming of the programme, Don & Sadie spoke of all the wonderful delights that Ripon has to offer.

As a result the film crew contact the Hornblower and a date was set for the filming of the 1100 year old tradtional ceremony.


A great boost for the publicity of Ripon.

A great advertisement for Ripon's Quirky Gourmet Food Store.

With over 50 fresh cutting cheeses, charcuterie, pâtes & salads, preserves & pickles, the Deli is unique in Ripon, providing the most flexible provision of quality foodstuffs.

Deli on Duck Hill specialise in foods from Yorkshire, and are very active supporters of 'Deliciously Yorskhire', the regional food group.


Don & Sadie have forged contacts in France, Spain & Italy from where they regularly import rare foods; some foods being imported directly from farmers and producers.


The Deli currently stocks a wonderful range of Parma Ham products which have obtained directly from the farms in Italy.


The Deli is fast becoming a mecca for Wedding Planners, with the production of some of the North of England's most unique "Cheese Wedding Cakes"!


Set in the very pretty arcade of "Ripon Small Shops" on historic Duck Hill, you must enter the deli to appreciate the products on offer. Such wonderful smells permeate the air, freshly ground coffees, meats & fruits; start the gastric juices flowing.

This is the site of Ripon's famous and unique "Olive Bar", always open for sampling!!

The deli looks along Kirkgate, to the Ripon Cathedral.

Don't miss this 'JEWEL IN RIPON'S CROWN'.

This business also offers the following services:
Shops | Food & Drink
Edit your business