See all Wedding Music businesses
Kendal String Quartet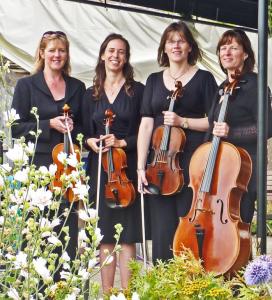 Kendal String Quartet, Ripon,
01765 606835
Music for Wedding Ceremonies/Receptions, Dinners, Parties & All Occasions
We specialise in providing the perfect accompaniment to Wedding Receptions, Corporate Entertaining, Private Functions, Parties, Dinners and Balls.

At a Wedding, we can be there to greet the arrival of your guests, to play during the ceremony - church or civil - and to entertain during the Wedding Breakfast. Never too loud, just the right balance to make your day an occasion that everyone will remember. Our repertoire is extensive ranging from such classics as:

Vivaldi - The Seasons / Bach - Air on a G string
Lighter pieces such as: Gershwin - I've Got Rhythm / Scott Joplin Rags
Popular songs including: Perfect Day / The Beatles
Hits from the shows such as: I Dreamed a Dream

Founded in 1990, The Kendal String Quartet takes its name from Kendal Lane in Leeds where the quartet held its first rehearsals.


This business also offers the following services:
String Quartet
Edit your business