See all Clubs & Associations businesses
Ripon and District U3A (University of the Third Age )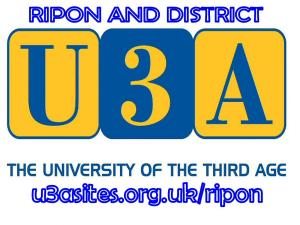 Ripon Spa Hotel, Park St Ripon HG4 2BU, Ripon, HG4 2BU
01765 606458
The organization is open to anyone who is no longer in full time employment. The aim is to help older people expand and enlarge their leisure opportunities by sharing knowledge and experiences in small activity groups called Interest Groups.
With 30 different groups in Ripon ranging in activities from keep fit to art to photography. 5 language groups, local history ,family history and more.Full details on our website.
We welcome visitors to our monthly general meetings in the Ripon Spa hotel, starts 2pm on the 4th Monday of every month.With a speaker, update on business and Interest Group news and a Chance to talk to the Steering Committee, come along anytime.
Edit your business