See all Alternative Medicine businesses
New Vision Hypnotherapy/Ripon Hypnotherapy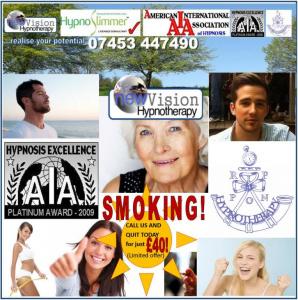 44, waterside, Ripon, HG4 1RA
07453 447490
therapy@newvisionhypnotherapy.co.uk
Based here in beautiful Ripon we are here for you; our mission is to help you make real positive change in your health and well-being.

Perhaps you are struggling with an addiction or weight gain, perhaps you have a phobia or trouble getting off to sleep at night; whatever your reason for reading this we can help.

We can relieve some of the stress and strain of modern life by giving you real insight into the specific triggers that affect you. Knowledge is power and you will have the necessary insight and support to tackle any issue that threatens your peace of mind.

Call us on 07453 447490 for a 100% FREE consultation.

WE ARE SPECIALISTS IN:
• Weight Control. (Hypnoslimmer, the nation's #1 hypnosis weight-loss program.)
• Smoking Cessation.
• Anxiety.
• Fears and Phobias.
• Self Esteem.

**********************

TESTIMONY:
For me this was an unusual experience which turned out to be very beneficial. I feel much better in myself after just one session - which was all that was required.
Having not had hypnotherapy before I was a bit nervous about it but you made me feel at ease as soon as I walked through the door. I'm pleased I took the step and did it - haven't looked back since.
...even my wife has noticed a difference in me!!
Thank you.
This business also offers the following services:
Health & Beauty | Weight Loss
Edit your business