See all Gardening And Landscaping businesses
Kingfisher gardening services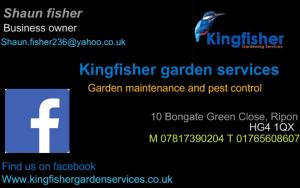 10 Bondgate green close, Ripon, Hg4 1qx
07817390204
Www.kingfishergardeningservices.co.uk
Hello we are kingfisher gardening services,
We have over 15 years experience in the gardening industry.
From General maintenance and landscaping to patio cleaning, weeding and pest control.
Just give us a call for a quick and easy quote.
Or you can Visit our website and follow us on Facebook.
Make your garden your sanctuary for summer.
Edit your business