See all Engineers, Consulting businesses
CADEC LIMITED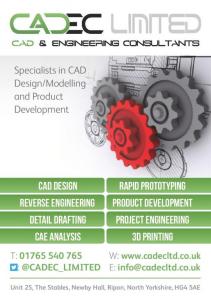 UNIT 25, THE STABLES, NEWBY HALL, RIPON, HG4 5AE
01765 540765
CADEC Ltd is probably Yorkshire's smallest independent engineering consultancy with the biggest service offering. It works with clients across industry sectors, undertaking commissions from blue chip companies, small businesses, entrepreneurs and private individuals.

In every undertaking, whatever the project and duration, CADEC aims to exceed client expectations. It focuses equally on design work and project management, taking a proactive approach to product development.

To create a positive experience from the outset, clients are taken through each stage from concept analysis through to completion. Every project begins with a defined and detailed Development Plan. This sets out the deliverables, the process involved, spend forecasts, and key milestones in the Product Development Plan (PDP).

CADEC has proven expertise in taking the simplest of ideas and developing working parametric 3D models and drawings using the latest CAD (computer-aided design) software processes, such as SolidWorks, Catia V5, AutoCAD, and UGNX. From these systems it can produce single small-scale 3D models for helpful visuals and presentations, or working prototypes created on our own 3D printers for review, prior to volume production.

As a full-service consultancy, CADEC's design expertise, modelling and project development skills are provided as a complete package, or as stand-alone services. It also supplies any design engineering and draughtsmanship skills required for short-term contracts. Support to engineering firms and architects can be for anything from one hour to a month or more, on everything from reverse engineering, to rapid prototyping, file conversion, detail drafting, and low-cost scale models.
Edit your business