See all Outdoor Pursuits businesses
WildMansticksBushCraft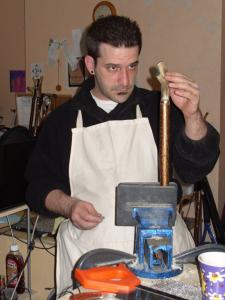 1 Newby Street, Ripon, hg41qh
07810046563
wildmansticksbushcraft@gmail.com
www.wildmansticksbushcraft.biz/
STUART LAWRENCE AND THE STORY OF WILDMANSTICKS/BUSHCRAFT/MOUNTAINEERING ...

Hailing from the Emerald Isle, Stuart lives in Ripon, cathedral city of the Yorkshire Dales and still works part-time as a barber to keep the new business afloat.

A chance meeting on the hiking trail led to the inaugral stick being made and an interest becoming a vocation ... Wildmansticks was born! Not being one to let the grass grow beneath his feet - literally and having completed a two year period of training in bushcraft and mountaineering (trekking not climbing) under the guidance and training of an ex-Special Forces professional - the middle and end components were brought into being, ie bushcraft and mountaineering.

Having made sticks over a period of 10 years as a hobby, in April of this year the business was established. A man for all seasons, Stuart has used lifeskills developed along the way - he is a barber (hence the skill in cutting!), a pastry chef/chef (the eye for detail) and a Jack of All Trades - there is nothing that he cannot turn his hand to if the interest is there.

Whilst Stuart is dyslexic - this is more than compensated for by his intelligence, his ability to motivate and teach and his wide-ranging knowledge - plus he has a secretary at his fingertips to help with the written page. His motto is who dares wins and persevere to achieve.

He is a member of the British Stickmaking Guild, Scottish Crook Association, Member of the Outdoor Institute for Learning, Member of the British Mountainclimbing Association and also a member of the Heritage Craft Association, Member of the Small Woods Association and Member of the British Woodcarvers Association.

2016 sees Stuart launch another venture - WildmanBirdsOfPrey - developing an interest from the past to a present day vocation. Volunteering at Talon Falconry, Ripon Stuart is learning how to handle, train, fly and care for owls and hawks. It is his intention to obtain his first bird, a barn owl this winter.

Edit your business