Ripon charity shop launches Christmas campaign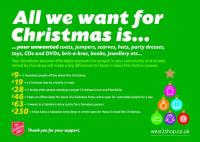 Salvation Army Trading Company's charity shop in Ripon is set to launch its 2013 Christmas campaign on Thursday 21 November with an appeal to shoppers that 'All we want for Christmas is…your donations!'
As well as revealing for the first time this year the special Christmas stock that the team has been saving up all year including gifts, toys, jewellery and winter clothing, they will also be appealing to shoppers to think about what they can give back to the shop at Christmas.
"Our Christmas launch is always a special day as shoppers can get their hands on all the festive stock we've been saving up since last Christmas," said Anthony Cummings, area manager for Salvation Army Trading Company. "There are some fantastic, high quality bargains to be had that will make wonderful Christmas presents for loved ones. However, we'd also like to encourage people to think about what they might be able to donate this Christmas. Whether it's a winter coat, woolly hat, children's toy, Christmas party dress, book, DVD, bric-a-brac – whatever you can spare – they will all help us provide affordable Christmas presents for people in the community whilst raising money for The Salvation Army, which does such wonderful work at Christmas time."
The shop will be unveiling new window posters and Christmas card-style leaflets showing customers what a big difference donating their unwanted items could make. For example, £9 could help to keep three homeless people off the streets at Christmas; just £19 could provide a Christmas box to a family in need containing food and gifts; and £28 could provide a Christmas meal and much-needed companionship to five elderly people.
"We hope that our festive messages resonate with customers old and new," added Anthony. "We're all so busy at this time of year that we wanted to give people a reason to stop and think about how something small like donating a few items to a charity shop can really make a big difference to the lives of others."
For more information on SATCoL charity shops visit www.wear2shop.co.uk.
Shop address and phone number: 86 B North Street, Ripon, N Yorkshire HG4 1DP –01765 600455