Call for Entries - Harrogate Open 2015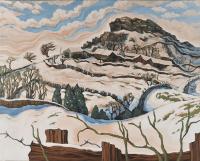 Call for entries for THE HARROGATE OPEN 2015 at The Mercer Art Gallery, Harrogate. Submission dates are 24 - 28 June 2015 with exhibition running from 4 July - 8 November 2015. With a prize fund of £1200 this is a great opportunity for artists to reach a wider audience. All media accepted, up to 3 artworks can be submitted at £7 each. Application details from www.harrogate.gov.uk/mercerartgallery or from Mercer Art Gallery
Call for Entries: THE HARROGATE OPEN 2015 The Biggest and best open exhibition in North Yorkshire Submission dates: 24 – 28 June 2015 Exhibition: 4 July to 8 November
In July the Mercer Art Gallery, Harrogate, will be putting on show the ever popular HARROGATE OPEN EXHIBITION, with a prize fund of £1,200 generously sponsored by the Friends of the Mercer Art Gallery.
This is a fabulous opportunity for artists to have their work shown in Harrogate's prestigious Mercer Art Gallery. With a prize fund of £1200, an exclusive invite to the private view as well as the potential of selling their work this is a great opportunity for artists to reach a wider audience.
The entry fee is £7 per work and artists are invited to submit up to 3 artworks in any medium. Prizes include the top prize of £500, runner up prize of £250, a highly commended award of £75 or you could win the People's Prize £100, a special prize voted for by our visitors.
You might be doing A Level Art at college, or maybe you have been painting for decades; whoever you are, don't miss out on taking part in the biggest and best Open Art Exhibition in North Yorkshire.
The selectors will be the Yorkshire landscape painter Katharine Holmes, the Director of the 108 Gallery, Harrogate Andrew Stewart and Jane Sellars, Curator of Art for Harrogate Borough Council.
Artists need to live in the Harrogate District or to have some firm connection with the district – e.g. they went to art college here, they work/ have worked here, they were born here, they have some connection with the Mercer Art Gallery.
Submission dates, when artists are invited to deliver their work to the Mercer, are Wednesday 24 to Sunday 28 June 2015. Application forms are available to download from www.harrogate.gov.uk/mercerartgallery or to pick up from the Mercer Art Gallery. The Harrogate Open exhibition will be on show at the Mercer Art Gallery from 4 July to 8 November 2015, entry is free.