'Oustanding' Ofsted Grading in all 4 Major Categories for Outwood Academy Ripon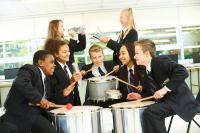 Outwood Academy Ripon has been graded "Outstanding in" all four categories in its latest Ofsted inspection. In doing so it became one of very few schools in the country to earn the top rating in each of the four major categories. With the continued commitment of our pupils and staff, we are convinced this rapid and remarkable progress can only continue. Recent Department for Education data ranks Outwood Academy Ripon second out of 55 similar schools, and top in North Yorkshire, for pupil progress. Ofsted praised the "exceptional outcomes" achieved by pupils, and their "outstanding progress", particularly in English and mathematics. It also highlighted the "exceptionally high" attainment of disadvantaged pupils.
Pupils and staff at Outwood Academy Ripon are celebrating after the school was rated 'Outstanding' in its latest Ofsted report this week. Outwood Academy Ripon achieved the highest grade possible in all categories. The 'Outstanding' rating caps a remarkable improvement for the Academy, which had been graded 'Good' in its previous inspection in 2012. Sir Michael Wilkins, Academy Principal and Chief Executive of Outwood Grange Academies Trust stated "I am always truly astounded by the hard work and commitment of students, staff and governors". He hailed the Outstanding Ofsted grading as being "thoroughly deserved and reflective of the amazing achievement of this school". Sir Michael also praised the "outstanding" leadership of Rob Tarn, Regional Chief Executive, Angela Sweeten, former Principal and Steve Merifield, the current Principal at the academy. Ofsted inspectors hailed the "outstanding progress" and "exceptional outcomes" of students, underpinned by "outstanding teaching typified by high expectations." The report added: "The vision and enterprise of the Chief Executive and the outstanding drive of the Academy leaders have resulted in rapid and sustained improvement and high achievement." Steve Merifield, Principal said "there are over 3000 secondary schools in the country which demonstrates how remarkable this achievement is. I am extremely proud of all of our students, staff, council members and wider community who have all supported our progression".
Outwood Academy Ripon is one of the first schools nationwide to achieve the top grade in all four categories under tough new Ofsted guidelines. The rating is just the latest boost for the Academy, after recent data by the Department of Education ranked it top in North Yorkshire and second nationally among similar schools for student progress. Annette Beckwith, Chair of Outwood Academy Council, stated "This is an unquestionable endorsement of the quality of education provided at Outwood Academy Ripon, one which the community of Ripon and surrounding area can be proud." Outwood Academy Ripon is also in the top 10 of all schools in the country for outcomes for disadvantaged students. http://reports.ofsted.gov.uk/inspection-reports/find-inspection-report/provider/ELS/137412