Outwood Academy Ripon Can't Catch Their Cross Country Girls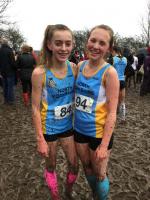 Success for two students as they run for North Yorkshire in the Inter County Cross Country School's competition.
County Cross Country This year has seen success for Outwood Academy Ripon's cross country athletes. It started in November with fourteen athletes competing at Giggleswick school, with weather conditions more akin to the Arctic Circle than the Yorkshire Dales. There were brave performances from all who participated, and particular mention should be attributed to Harry Stephenson and Freya Wain who narrowly missed out on progressing to the North Yorkshire County Championships.
Chloe Dalton and Emma Sorby, successful at Giggleswick, went on to represent Harrogate and Craven at the North Yorkshire Cross Country competition. After hugely committed runs, both girls qualified to represent North Yorkshire at the county championships at Stockton-on-Tees.
The Schools' Inter Counties Cross Country competition held on Saturday 6th February at Preston Park, Stockton-on-Tees, saw Outwood Academy students Chloe Dalton and Emma Sorby compete with hundreds of other students. They represented North Yorkshire in the Inter County Girls category. Chloe Dalton finished 7th overall and 2nd for North Yorkshire and Emma Sorby finished 42nd overall and 12th for North Yorkshire. Chloe Dalton will go on to represent North Yorkshire at the England schools' national event in Nottingham on March 5th.
Mr William Pratt, Outwood Assistant Principal said "They both ran exceptionally well on the day, a truly fantastic result for Chloe and Emma and we wish Chloe the very best of luck in the England schools' competition."