What's On
Keep up to date with the events that are happening throughout the year in Ripon and the surrounding area. We welcome you to add your own event to the Ripon Internet diary.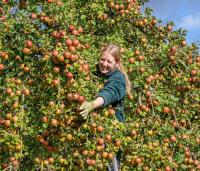 International apple throwing championships mark end of season at Newby Hall
Newby Hall near Ripon is marking the end of the 2022 season with its annual international apple throwing championships, part of the Apple Day celebrations on Sunday 2 October.
Head gardener Lawrence Wright and his team have been busy harvesting apples from Newby Hall's orchard in anticipation of a high turnout for the hotly contested event.
The apple throwing championships will take place between 1-3pm. Contestants who qualify by throwing three apples to the far side of the River Ure will be invited to take part in the grand finale at 3pm, with the chance to win the title and the pome shaped trophy.
There will also be a range of activities to suit all members of the family from apple pressing demonstrations and apple displays by the Northern Fruit Group to orchard tours and cider tasting. The Harrogate Spa Town Ukulele band will serenade visitors with its wide repertoire.
Originating in central Asia, apples are one of the most widely grown fruits worldwide and there are more than 7,000 apple varieties. Newby Hall grows around 50 varieties in its heritage orchards, including 30 Yorkshire varieties from Hilary Dodson of the Northern Fruit Group which have been added to the collection
Stuart Gill, commercial director at Newby Hall said: "The apple throwing competition is a core part of our Apple Day celebrations. Apples offer a strong sense of place and support the rich diversity of wildlife we encourage and celebrate on the estate so the championships are a great way to end our busy 2022 season."
Ends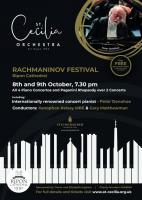 Peter Donohoe Plays Rachmaninov - Concert 2
A 'once in a lifetime' opportunity to hear all of Rachmaninov's Piano Concertos in one weekend, with world-renowned pianist Peter Donohoe! This concert features the 1st and 3rd Concertos. Tickets available online only from 1st July (reserved seats) with 10% off if you book for both concerts! www.st-cecilia.org.uk
Add your event