Ripon History
Kirkgate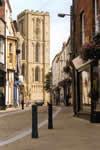 The narrow, winding street known as Kirkgate has always been of great importance in the life and history of Ripon as it is the main thoroughfare between the commercial world of the Market Place and the Ecclesiastical world of the Cathedral. The east end of Kirkgate offers the visitor a tempting look at the Minster Church to the east, but this has not always been the case. In previous times the church had a precinct wall and a gatehouse, and it was this view which was sketched by Turner in his view of Ripon Cathedral.

The Royal Oak public house stands prominently on Kirkgate, opposite the top of the junction with Duck Hill. The Royal Oak was owned by the Askwith family during the 18th century, and it is supposed that this is where King Charles I spent a night around the time of the Battle of Marston Moor. Though there is a bar named "Charlie's Bar" within the pub, this new name has more to do with the present Prince of Wales taking refreshment at this public house during a visit to Ripon.
The recent conversion of the east section of Kirkgate to a pedestrian only route has allowed visitors and residents alike to enjoy a stroll along one of the most beautiful streets in Ripon, and to be able to stop for refreshments at many of the eating houses along its route.
Walking along Kirkgate one will certainly notice a timber framed archway to the north side. It was through this that the stagecoaches passed to the stabling yards of the Unicorn Hotel which faces onto the Market Place. In earlier times, this was the route to the Archbishop of York's Manor, allowing him passage from there to the Minster Church.
Join in the Community